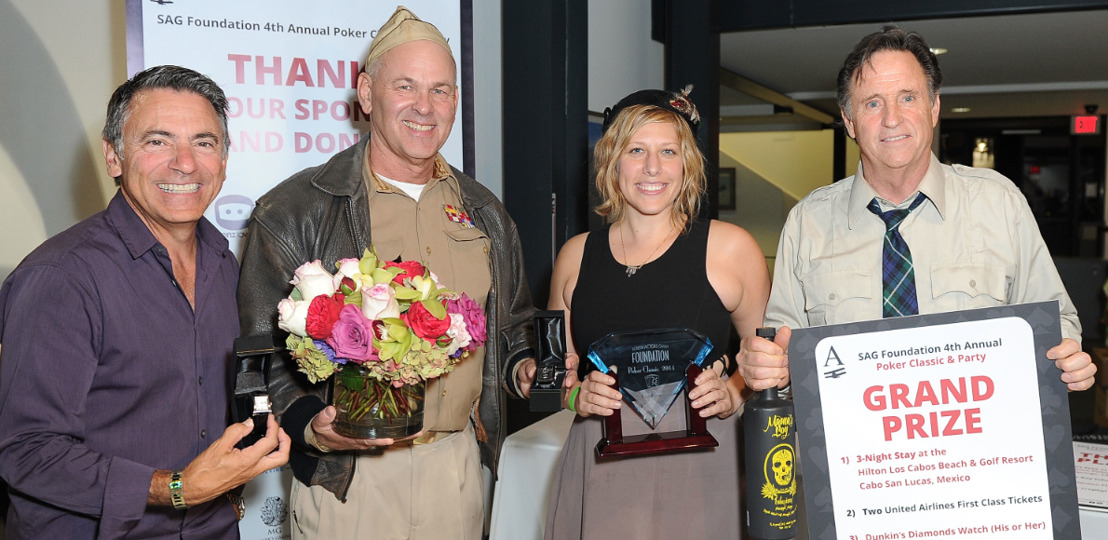 Julie Marcus Wins Grand Prize at the 4th Annual SAG Foundation Poker Classic and Party
The Fundraiser Benefits The SAG Foundation's Don LaFontaine Voice-Over Lab
Friday, August 29, 2014 — Julie Marcus was the big winner at the 4th Annual SAG Foundation Poker Classic and Party that took place on August 23. The annual fundraiser works to develop voice-over artists. This year the party was hosted by Robert Hays. Marcus came in 1st place beating out Powers Boothe, who took 2nd and Lex Lang, who came in 3rd.
"I am excited to have come in first place at this year's fundraiser, but I am more excited about getting the opportunity to participate in such a powerful event that looks to develop artists with voice-over talents," Marcus said. "I can appreciate what the SAG Foundation is doing here because it is an area that I work to develop every day. And I love playing poker, so this was a perfect combination."
As grand prize winner, Marcus won a three night stay at the Hilton Los Cabos Beach and Golf Resort, two United Airlines First Class tickets to Cabo San Lucas, Mexico, Dunkin's Diamonds Watch, Mama's Boy Infusion Tequila, Mark's Garden Flower Arrangement and of course, a 1st place trophy and the glory of being the first woman to ever place in the Poker tournament.
Julie Marcus has contributed her voiceover talents to many roles including work for Sony, ABC, Hasbro, Nickelodeon, E! Entertainment Television, Sundance TV and landing a series regular role in DreamWorks' animated TV series "Dragons: Riders of Berk."
Her on-camera achievements mimic her vocal accolades, having booked a role on FX's TV drama "Rescue Me," and in indie films "Boxing Day," and "Two Jacks," with Sienna Miller and Billy Zane. Marcus has also produced a play she wrote called "It's a Wonderful Sex Life" which played at the Manhattan Theater Source in New York.
Marcus is represented commercially by Prestige Talent Agency, and by Atlas Talent Agency for voiceover work. Tara Kurtz is her direct manager at Harris Management.
Dionna Livingston Publicist, Harris Management